Search Archive
Browse By: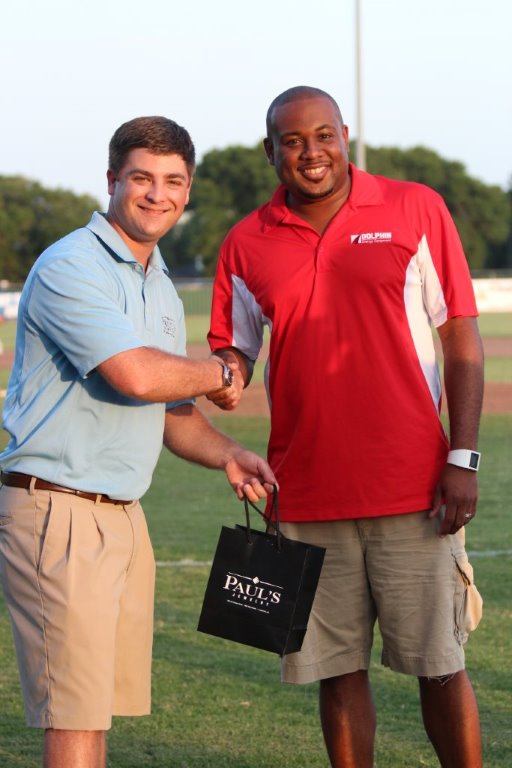 06/28/2013 8:58 PM
-
The Cane Cutters' faithful were treated to a full evening at Fabacher Field that ended with more than one gem.
The Acadiana Cane Cutters outshined the visiting Texas Marshals after the first-ever Paul's Jewelry Diamond Dash at Fabacher Field Friday night. The team put up a gem, defeating the visitors with unmistakable clarity 11-4. The Cutters left with a win and the so did a lucky fan, taking home an exquisite $2,300 necklace from Paul's Jewelry.
The Cane Cutters got off to a quick start scoring 4 runs in the first two innings. Texas A&M catcher Mitchell Nau drove in the first run on a sacrifice fly during the first frame. Jordie Hein hit an RBI single, while another runner scored by way of a Texas Marshal error. Jace Statum followed that up with an RBI double to give the Cane Cutters a commanding 4-0 lead.
The Cane Cutters exploded in the 6th to score 7 runs on 5 hits. Nick Dawson started the scoring off with a bases loaded, 2 RBI single. Jace Statum and Brett Thornell each hit RBI singles to increase the lead to 8-0. Shortstop Logan Taylor also contributed to the hit parade, cashing in an RBI single. Not to be outdone, University of Alabama infielder Colton Freeman came in to pinch hit and hit a 2 RBI ground rule double to make the lead 11-1 at the two-thirds mark.
The Marshals were able to get a quick 3 runs in the 8th inning, but Canes' reliever John Gremilion, was able to come in and shut the Marshals down. The Cutters would go on to take the game, winning 11-4, splitting the series between the Texas Marshals. Kyle Cedotal recorded the win, throwing 6 innings, giving up 1 earned run and striking out 4 batters.
The Canes will now hit the road, taking their show to Victoria for a weekend series with the Generals before returning to Acadiana Tuesday and Wednesday where they will host the Woodlands Strykers for the first time at Fabacher Field. Tuesday July 2 will be this season's first Duhon's Fun Jumps Tuesday. ALL kids are invited to enjoy ALL the Fun Jumps ALL night long. Then join the Cutters for Coke Wednesday, where all kids 10 and under will receive FREE admission to the park if they bring an empty Coca-Cola can or bottle. Stay up to date by Liking Acadiana Cane Cutters Baseball on Facebook, and by Following the squad on Twitter @CaneCuttersBB.
College Baseball's Brightest Stars shining for Major League Baseball's Biggest Stage.