HADDOCK BASEBALL CAMP

- July 31st & August 1st - Missed the first two sessions of camp? No problem, we have a 3rd camp coming up! This camp will be different than the first two, it is sponsored by the Haddock Foundation, who will be providing the camp T-shirts, and it will focus on hitting but it won't lack the fun and excitement the other two had. For more information Click Here.
SUPER HERO'S NIGHT

- July 31st - On Super Hero's Night we want to show thanks and gratitude towards our Super Hero's who do not wear capes, who walk amongst us every single day with out ever asking for praise. This night we will be giving special Thanks to the men and woment who work with the Police, Fire & EMT. If you know a hero, please send them our way! For more information Click Here.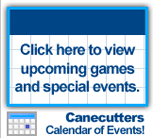 Player: #23 Connor Barron


July 22nd-July 28th

.308 Batting Percent
.471 On Base Percent
.462 Slugging Percent
5 R, 6 SB, 1 3B, 2 BB




Pitcher: #26 Scott Ashford


July 22nd- July 28th

1-0 (1 App.), 3.0 IP, 2 SV
3 G, 0.00 ERA, .111 BAA
4 SO, 1 Unearned Run


Texas Collegiate League
Team
W
L
PCT
GB
Brazos Valley Bombers
34
12
0.739
-
Victoria Generals
33
17
0.660
3
Acadiana Cane Cutters
25
21
0.543
9
East Texas Pump Jacks
18
29
0.383
16.5
Texas Marshals
16
31
0.340
18.5
Woodlands Strykers
16
32
0.333
19