Search Archive
Browse By: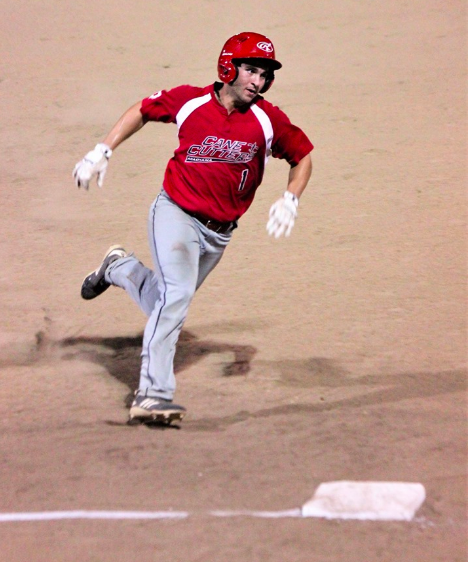 06/14/2019 11:23 AM
-
Baton Rouge, LA (June 13, 2019). The Cane Cutters headed back to Baton Rouge last night to take on the new team in the league and in-state rival The Rougarous. The Cane Cutters took their third win of the season by defeating Baton Rouge 10-3. The offensive onslaught came from singles by Cameron Dobbs (UTA), Zach Mazur (Notre Dame), Jarod Free (Liberty), Trace Henry (ULM) and a sacrifice fly by Ryan Carr (Notre Dame).
The Cane Cutters got things moving in the second inning. Cane Cutters scored two runs when Fisher Norris (Southern Miss.) singled. Cane Cutters put up seven runs in the fifth inning. Dobbs, Mazur, Free, Carr, and Henry powered the big inning with RBIs.
Drew Boyd (Southern Miss) was credited with the victory for the Cane Cutters. He went five innings, allowing two runs on five hits and striking out two. Marcus Olivarez (Lamar) and Gage Trahan (Arkansas- Little Rock) entered the game out of the bullpen and helped to close the game in relief.
Zach Fordham took the loss for Baton Rouge Rougarous. He lasted four and third innings, allowing six hits and five runs while striking out one.
Cane Cutters collected 12 hits. Henry, Free, and Dobbs all managed multiple hits for the Cane Cutters. Henry went 3-6 at the plate to lead the Cane Cutters in hits.
The Cutters will be back in action Tuesday night (6/18) at Fabacher Field. Gates will open at 6PM and first pitch is at 7PM for all homes games. To get weekly updates on the team and fun theme nights coming up, please visit our website and subscribe to our newsletter.
For ticket information, call the Cane Cutters front office at (337) 451-6582 or go to canecuttersbaseball.com. For all news, stats, weather updates, and discounts for the 2019 season, follow the Cane Cutters on Facebook at Acadiana Cane Cutters Baseball, Twitter @CaneCuttersBB, and Instagram at Acadiana_CaneCutters.