Search Archive
Browse By: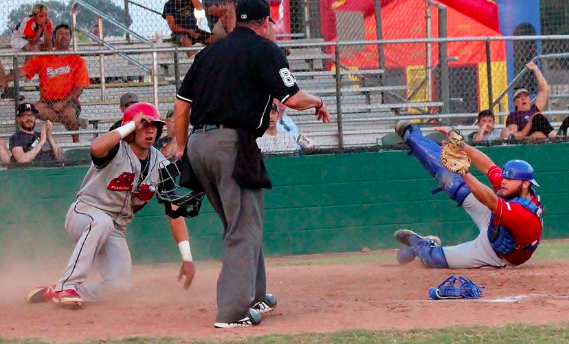 05/31/2019 11:44 PM
-
Youngsville, LA (May 31, 2019). The Acadiana Cane Cutters put together a late rally in the top of the seventh inning but the Cutters came up on the short end of the contest, falling 3-2.
The Cane Cutters opened a lead in the bottom of the first when T. Spears (ULL) crossed the plate after being walked during his at bat. C. Bowie (East Central University) also recorded the first hit of the game in the first. The Cane Cutters came through in the bottom of the seventh to tie the game 2-2. F. Norris (Southern Miss.) lead off the seventh hitting with a base hit and advanced to second base on a wild pitch. R. Spenrath (Texas A&M) came up to bat and scored F. Norris on an RBI fielder's choice. Unfortunately, the Bombers got that run back in the top of the ninth inning, making it a 3-2 game. Even with a late rally, the Cane Cutters couldn't pull any more runs in the bottom of the ninth.
The Cane Cutters pitching staff went the distance on the mound tonight. D. Boyd (Southern Miss) pitch 4 complete innings, allowed three hits, and struck out one. K. Peet (Delta State) came to relieve in the fifth inning and didn't allow a single hit, and struck out five. Hunter Stafford (Delta State) finished the game for the Cutters by pitching the last two innings. He allowed two hits, and struck out four.
The Cutters will be back in action tomorrow night (6/1) at Fabacher Field. Gates will open at 6PM and first pitch is at 7PM for all homes games. To get weekly updates on the team and fun theme nights coming up, please visit our website and subscribe to our newsletter.
For ticket information, call the Cane Cutters front office at (337) 451-6582 or go to canecuttersbaseball.com. For all news, stats, weather updates, and discounts for the 2019 season, follow the Cane Cutters on Facebook at Acadiana Cane Cutters Baseball, Twitter @CaneCuttersBB, and Instagram at Acadiana_CaneCutters.